Apple Releases iOS 9 GM and First iOS 9.1 Beta to Developers

Apart from seeding OS X 10.11 El Capitan GM to developers for testing, Apple has also released iOS 9 GM and the first iOS 9.1 beta.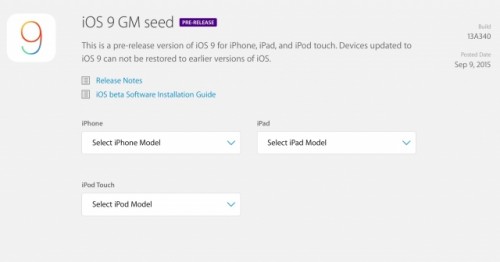 As it was announced at the media event on Wednesday, iOS 9 will become available for public on September 16th. This is a bit strange since usually Apple lets people update their devices to new operating system immediately after the media event devoted to new iPhones. Anyway, the latest pre-release build of iOS 9 has a build number 13A340 and can boast of a number of bug fixes and improvements.
As to the first iOS 9.1 beta, it has a build number 13B5110e and is quite similar to iOS 9 GM. It is very difficult to define all new features of the new operating systems as many of them are available only on new iPhone 6s, iPhone 6s Plus and iPad Pro featuring pressure-sensitive 3D Touch displays.
If you have a developer account, you can download both iOS 9 and iOS 9.1 right now. Keep in mind that these versions can still have some bugs and cause various issues that is why it is not recommended to install them on main devices. It's safer to wait for the official release and update only then.

Leave a comment