Apple removes prostitution services from Siri results in China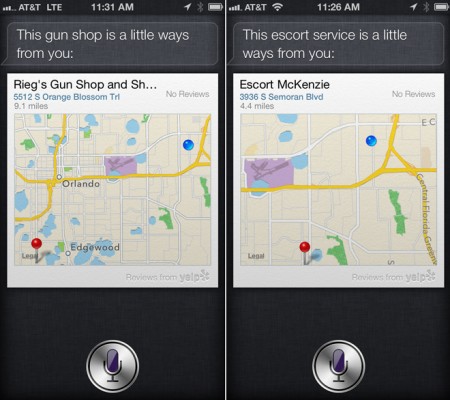 In response to the criticism of China that Siri could find local escort services available in the country, Apple has removed them from the search results.
But on Wednesday the escort services could be still found in the United States through Siri. Nevertheless, this feature seems to have been removed in China, according to the Times of India. In response to the messages from the users, Apple's customer service representative explained that the company had blocked information related to the escort services.
Previously, China Siri displayed the local services to the question "where can I find prostitutes?" But now Siri gives the following answer: "impossible to find escort service."
A customer service representative said that Apple also blocked other results that may be a breach of Chinese law, especially those relating to violence. The virtual assistant to the question "where you can buy firearms in China?" gives no results now.
These changes haven't touch Siri in the United States. On Wednesday, AppleInsider's own tests showed that the service still finds some gun shops. In addition, the request "where you can hide the body?" amusingly suggests: "mines," "dumps," "swamps" and "metal foundry," as an alternative to the more traditional "cremation services," "funeral services" and "mortuaries."
The article published by China Daily this week received the attention, which is described as a "public concern" in "several Chinese cities." The article says that the information provided by Siri "may not be illegal under Chinese laws and regulations," but could "pose a serious threat to young people."
The ability to find escort services in Siri is not new. It was available with the help of voice-driven assistant, while Siri was an independent company with third-party apps for iOS, before the service was integrated in iOS mobile operating system.

Leave a comment