Apple repeatedly offers purchase of a ticket for WWDC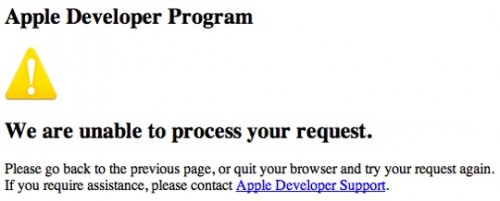 Tickets to the Apple's Worldwide Developers Conference sold out this morning for less than two minutes, leaving developers with error messages supposedly their purchase requests cannot be processed.
According to the founder of Red Sweater Software, Daniel Jalkut, Apple has contacted some of the registered members of this program and once again invited them to buy a ticket to WWDC. Eric Dolecki detailed phone call from Apple in a blog.
"I pick up and a nice guy tells me he's from Apple Developer Support and that they noticed that I tried to purchase a ticket today and that the transaction didn't go through. I told him that was true. I thought the next thing out of his mouth would be an apology or something – just to be nice.

He then proceeds to tell me that he's got good news – a ticket has been reserved for me in my name and that I'll be receiving an email from Developer Support within 12 hours with instructions on how to purchase the pass. He thanked me for supporting the platform, etc."
History of Dolecki was confirmed by several other developers at Twitter, who also received phone calls from Apple. The company seems to be offering tickets to those whose ticket purchase at WWDC has not been confirmed.
Apple Worldwide Developers Conference will be held from 10 to 14 June at the Moscone West Convention Center in San Francisco. Tickets priced at $ 1599.

Leave a comment