Apple secures Liquidmetal exclusivity for two more years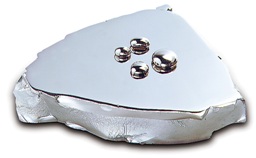 Apple and Liquidmetal Technologies announced that they have extended their agreement for an additional two years. This agreement provides Apple with a full license to all of Liquidmetal's intellectual property.
Under the MTA [Master Transaction Agreement], the Company was originally obligated to contribute to Crucible Intellectual Property, LLC, a special purpose subsidiary of the Company, all intellectual property acquired or developed by the Company through February 5, 2012, and all intellectual property held by Crucible Intellectual Property, LLC is exclusively licensed on a perpetual basis to Apple for the field of use of consumer electronic products under the MTA. Under the Amendment, the parties agreed to amend the MTA to extend the February 5, 2012 date to February 5, 2014.

The foregoing does not purport to be a complete description of the Amendment and is qualified by reference to the full text of such agreement, which will be filed with the Company's next Quarterly Report on Form 10-Q.
The original deal required that Liquidmetal submit all of its intellectual property discoveries to the subsidiary through February 5, 2012, was signed in August 2010. Apple previously tested Liquidmetal' alloys in the iPhone 3G SIM eject tool.

Leave a comment