Apple Seeds Third iOS 9 Beta to Developers

Apple has seeded the third iOS 9 beta to developers for testing. The release comes about two weeks after the release of the second beta and a month after the debut of iOS 9 at Apple's Worldwide Developers Conference. The guys from Cupertino have added a wide number of bug fixes and new features to the update, making iOS 9 a thing worth waiting for.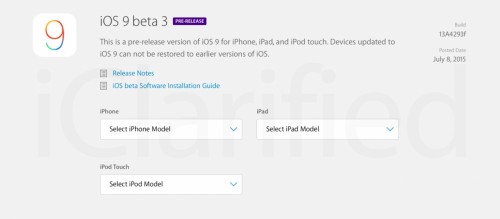 The latest beta has a build number 13A4293f. Below you may take a look at the list of the most important improvements.
News app that contains top news based on user's interests and tastes.
Revamped two-factor authentication, which makes Apple's ecosystem even more secured.
Photo app folders, namely, Selfies and Screenshots.
New Music app that supports Apple Music, Beats 1 and Connect.
Search improvements that make it easier to look for things on the device and on the Internet.
Improvements to Restrictions, Camera and Battery Settings.
If you have a developer account, you can download the latest iOS 9 beta right now. As usual, it is available either from Apple's developer portal or as an OTA-update.
The guys from Cupertino will also launch a public beta testing program soon, so you will get an opportunity to test it yourself. The only thing I'd recommend is not to install the beta on your main device.

Leave a comment