Apple Sold 6 Million Apple Watch Units in Q4 2016, Became Market Leader

According to the latest report from a research firm Canalys, in the fourth quarter of 2016 Apple shipped 6 million Apple Watch units. The revenue generated by the sales accounted for $2.6 billion, which makes Tim Cook's words about record sales and strong demand for the device truth. The sales grew 12% year-over-year, researchers claim.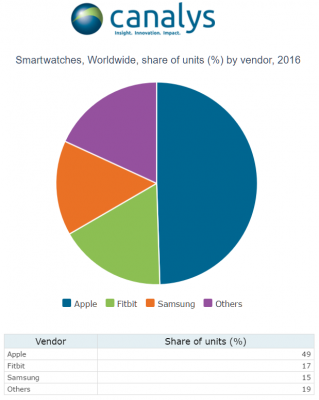 Apple typically does not reveal unit sales or revenue generated by the Apple Watch. This product is included in the category called "Other Products". If the report shared by Canalys is correct, Apple may be a leader of the wearable device market with 80% of total revenue.
Overall, Apple's market share in 2016 accounted for 49%, while the shares of Fitbit, Samsung, and other vendors made up 17%, 15%, and 19% respectively. Canalys estimates suggest that total shipments of all Apple Watch models totalled in 11.9 million units.
Apple is expected to introduce the updated Apple Watch later this year. Unfortunately, the design and specs of the device remain unknown.
[via Canalys]

Leave a comment