Apple Sold More Smartphones Than Samsung in Q4 2016

According to the latest report from Gartner, Apple sold more smartphones than Samsung in the fourth quarter of 2016. Apple's smartphone market share accounted for 17.9%, while that of Samsung was equal to 17.8%. The different between two smartphone makers is small – only 256,000 units.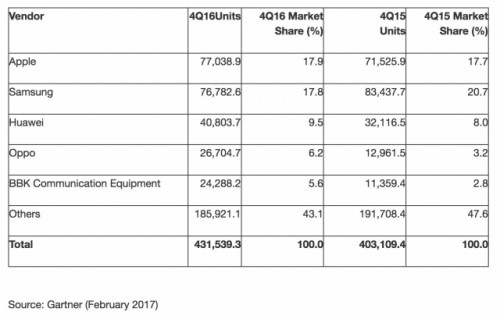 The last time Apple was selling more smartphones than its main rival was in Q4 2014. This was the time when the company unveiled the 4.7-inch iPhone 6 and 5.5-inch iPhone 6 Plus. Last quarter, the sales of the iPhone 7 and most importantly the larger iPhone 7 Plus with a dual camera allowed Apple to take the lead. Another reason is weakened demand for Samsung devices in Europe and America.
Gartner also reports about the shares of Asian smartphone manufacturers like Huawei and Oppo that grew last quarter as well as about decline in the sales of Blackberry devices. 10 years ago, the company was a leader of the industry, but in the fourth quarter of 2016 its market share declined to 0.0%.
Android remains the top platform with 81.7% share, while iOS is on the second place with 17.9%. The third spot is taken by Windows. Its market share is equal to 0.3%.
[via iClarified]

Leave a comment