Apple Started Offering Unlocked iPhones in Germany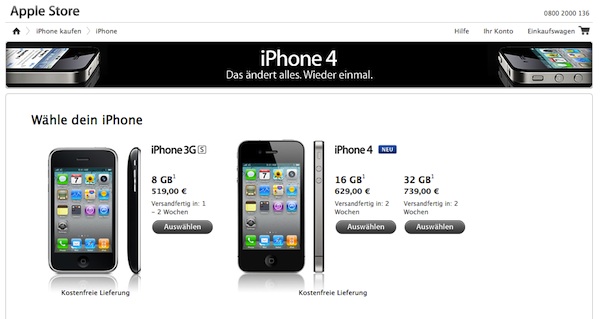 Yesterday wireless carriers Vodafone and O2 started offering the iPhones in Germany. Previously Apple's handset had been carried exclusively by T-Mobile. Nowadays the carrier continues to sell the device. The iPhone is offered in a variety of plans and contracts; one of them even allows to buy the phone for 1 euro.
German version of Apple's Online Store also started offering iPhone 4 and iPhone 3GS, which are contract-free and unlocked so they can "work with the wireless carrier of your choice". The site also reminds the iPhones work only with GSM networks, and the latest generation of handsets requires a micro-SIM card.
The prices for iPhones in German retail stores are next:

8GB iPhone 3GS - $715 - 519 euros
16GB iPhone 4 - $866 - 629 euros
32GB iPhone 4 - $1017 - 739 euros
Multi-carrier support of iPhones is a part of Apple's carrier strategy in Germany and some other countries, though the company denied that the partnership with a few carriers in every market is inevitable, according to COO Tim Cook.
"I don't want to imply that would happen in every market or that we are headed that way in every market".

Leave a comment