Apple still No. 1 manufacturer in growing US smartphone market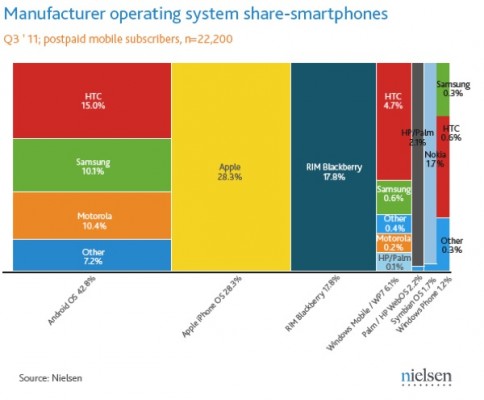 According to findings released on Tuesday by Nielsen, Apple remained the largest smartphone manufacture in the Unites States in the third quarter. While smartphones sales continue to grow in the U.S., accounting for 56 percent of all cellphone sales in the prior quarter, Apple's market share has reached 30%. Apple's third quarter performance was followed by HTC with a 20.3% share.
As for mobile platforms, Android and iOS dominate with a 71.1% share, holding 42.8% and 28.3% respectively. About a half of all mobile users in the United States owns a smartphone. During the prior quarter 56% of all handsets purchases were smartphones. The third place still belongs to RIM's BlackBerry platform with 17.8% that was followed by Microsoft's Windows Mobile platform, HP's Palm/webOS, Symbian and the fledgling Windows Phone.
App downloads in the third quarter saw that Google and Apple have the largest share. 83% of all downloads were made through Android and iOS devices. But Google has recently expressed dissatisfaction by the situation with app downloads, and hinted at upcoming changes that would bring its online store more in line with Apple's.

Leave a comment