Apple Stops Signing iOS 8.2, Downgrade Is No Longer Possible

Apple has just stopped signing iOS 8.2, which means it is no longer possible to restore or downgrade your iPhone or iPad to this version of Apple's mobile operating system. If you have iOS 8.3 installed on your device, you can simply ignore this post, however, if you want to continue using iOS 8.2, be careful and don't upgrade to iOS 8.3 accidentally as it would be impossible to downgrade. This suggestion is especially important for the owners of older iPhones and iPads, which may encounter some performance issues on iOS 8.3.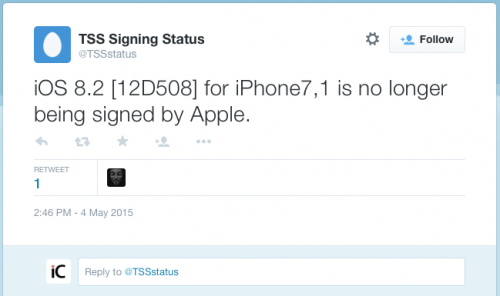 Apple has stopped signing iOS 8.2, making restores and downgrades to the firmware no longer possible.

If you want to stay on iOS 8.2 take care that you do not accidentally update to iOS 8.3 because you won't be able to get back to iOS 8.2.
Apple usually stops signing an older version of iOS several days or weeks after the release of the newer build. If to take into account the release of iOS 8.3, which took place on April 8th, it is high time the guys from Cupertino stopped signing iOS 8.2.
[via iClarified]

Leave a comment