Apple Thunderbolt Display Teardown Reveals Plethora of Hardware Inside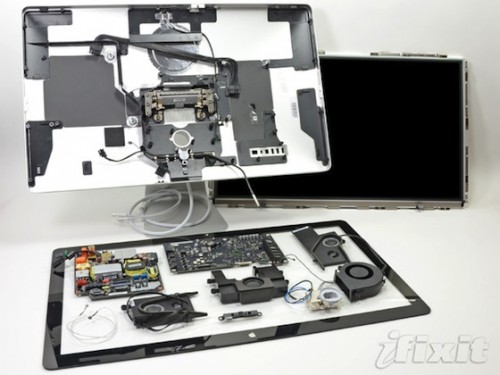 Apple's new Thunderbolt display was torn down by iFixit.  Surprisingly, but this time it was very easy to disassemble the new display. iFixit found inside plethora of hardware to support normal work of display and docking station functions, which the display performs. iFixit told that both sides of the logic board were packed with different chips so that it was hard to believe that there was no computer inside the display.
The new display includes:
Pericom PI7C9X440SL PCIe-to-USB 2.0 host controller
L129NB11 EFL, which looks to be the Thunderbolt port controller
Analog Devices ADAV4601 audio processor
NXP LPC2144 USB 2.0 microcontroller
Delta LFE9249 10/100/1000 Base-T LAN filter
SMSC USB2517-JZX USB 2.0 hub controller
Maxim MAX9736B Mono/Stereo high-power Class D amplifier
LSI L-FW643E-2 open host controller interface
Broadcom BCM57761 Gigabit ethernet controller
Supertex HV9982 3-channel switch-mode LED driver IC
In addition to various chips, the display also can boast about an integrated 49-watt, 2.1-speaker sound system with a small 1-inch subwoofer, as well as a 720p FaceTime camera and integrated microphone. Apple's new Thunderbolt display uses LG LM270WQ1 panel inside. Thunderbolt cable is connected to a Thunderbolt port rather than directly to logic board.  The team is also curious about why Mini DisplayPort displays can not be daisy chained off of an Apple Thunderbolt Display.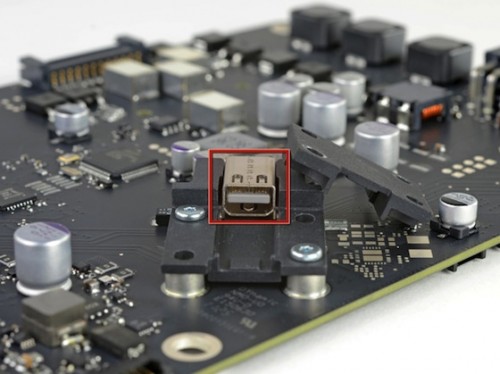 Thunderbolt port on logic board

Leave a comment