Apple Tweaked App Store To Promote Quick Installation Of Its Free Apps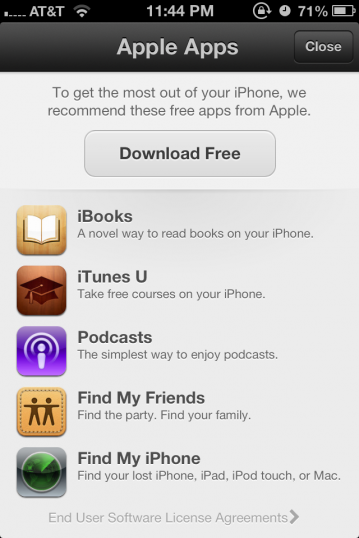 Apple seems to be adding the final touches on the revamped App Store ahead of the iOS 6 public release this week. As of today, a new page promotes Apple's own free apps, offering an easy way for first-time users to "get the most out of" their device.
Apple promotes only its free apps with no mention of paid apps such as iWork or iLife suites. The page includes a "Download Free" button that offers a one-tap installation of Find My Friends, Podcasts, Find My iPhone, iTunes and iBooks.
The next-generation iOS will be publicly released on this Wednesday as a free update for the iPad 3 and iPad 2, fourth-generation iPod touch, iPhone 3GS and newer. iOS 6 is included in the new iPhone 5 and next-generation iPod touch that will be available in October.

Leave a comment