Apple Will Soon Refresh iPod Lineup with Hardware and Design Changes

According to the latest rumors that appeared on the Internet earlier this week, the guys from Cupertino may show us a brand new iPod lineup on July 14th. The rumors come from French website iGen.fr, which has a good track record when it comes to Apple gadgets and their release dates. This means we can believe the latest report shared by French reporters.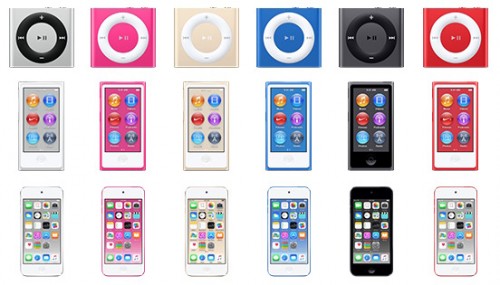 As noted in the report, the next-gen iPod touch codenamed N102 may get a powerful 64-bit A-series processor. As to the iPod nano codenamed N31A and iPod shuffle codenamed N12D, they will get only minor updates like new color options. In case you don't know, both iPod touch and iPod nano were updated with new features and design in October 2012. iPod shuffle got a new look and shape in 2010.
Apple will announce a refreshed lineup of iPod touch, iPod nano and iPod shuffle portable media players around July 14, according to usually reliable French website iGen.fr. The report claims the new iPod touch (codenamed "N102") should be a more significant update, likely including a bump to a 64-bit A-based processor, while the iPod nano ("N31A") and iPod shuffle ("N12D") may be refreshed with new colors only.
As a former owner of the iPod touch and a fan of the iPod Shuffle, I'm happy Apple decided to update the lineup of its portable media players. Even though the sales of these gadgets continue to decline. Can't wait to see these gadgets.
[via MacRumors]

Leave a comment