Apple's Founding Contract Will Be Auctioned Off At Sothby's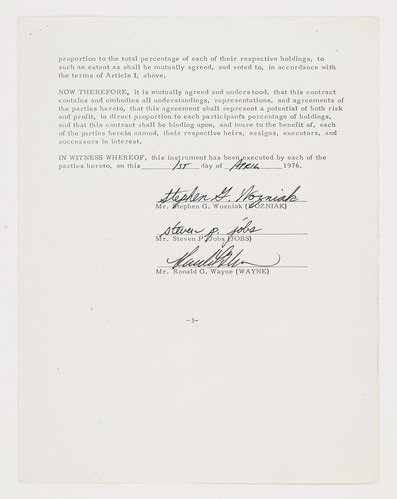 According to the Bloomber's report, Sothby's is going to auction off the original four-page founding contract among Steve Jobs, Ron Wayne and Steve Wozniak that established Apple Computer Company on April 1st, 1976. The document is expected to fetch from $100,000 to $150,000 on the auction that is planned for December 13th. Richard Austin, the director of books and manuscripts at Sotheby's in New York, said:
"This is a foundation document in terms of financial history, social history and technological history".
The auction package also includes additional papers that documented withdrawal of Ron Wayne as a partner just twelve days after the company was established. According to Sotheby's, initially Wayne received $800 for relinquishing his 10% share of the company and subsequently received additional $1,500 payment. Sotheby's Richard Austin said that the consigner acquired the documents in the 1990s from a manuscript dealer who had bought them from Wayne.
In the interview with Matt Brian from The Next Web Ron Wayne said that one of the reasons for his withdrawal from the company after just twelve days was his realization that in Apple he would be in the shadows of geniuses.

Leave a comment