Best Buy Offers a $200 Gift Card for Your Old iPhone 4S

Best Buy has launched another trade in program. This time the America's biggest consumer electronics retailer offers a $200 gift card for all those who trade in their working iPhone 4S and a $100 card for those who decide to get rid of their iPhone 4.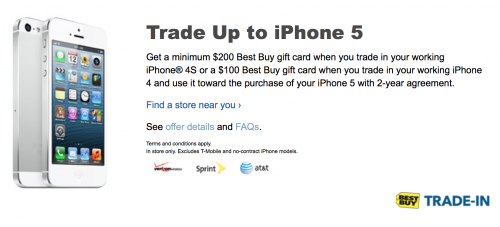 It should be pointed out that one can only use the gift card to buy another Apple smartphone - iPhone 5 - with a two-year agreement with such carriers as AT&T, Sprint or Verizon Wireless. Even if to take this fact into consideration, this promotion still seems to be a good bargain, I guess, especially since you get a brand new iPhone 5 with 16GB of memory on board for free.
According to 9to5Mac, the special offer starts today and will be available till Sunday, August 18th. If you're too lazy to go to the nearest Best Buy retail shop, you can use the official website to take part in the trade in program.
In case you have an iPhone 4 or 4S with cracked screen or water damage, you may forget about changing them to the fifth generation iPhone. This is quite obvious.
Anyway, whether it is smart to buy the iPhone 5 three weeks before the iPhone 5S release is still the question to answer. You can wait for a while and after September 10th purchase a new iPhone 5S with a two-year carrier agreement for the same $200 or a bit more. Well, choose yourself.

Leave a comment