BlackBerry CEO: 'Apple now lacks innovation'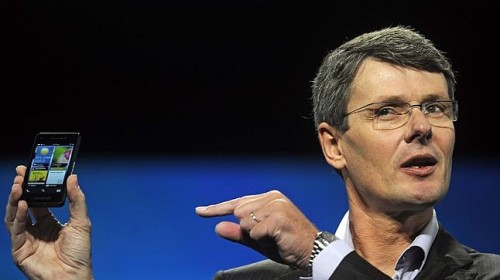 In an interview in The Australian Financial Review (via AllThingsD), Thorsten Haynes, Blackberry CEO characterizes the iOS user interface as outdated, arguing that the popularity of the iPhone may be reduced due to the lack of innovation.
"Apple did a fantastic job in bringing touch devices to market ... They did a fantastic job with the user interface, they are a design icon. There is a reason why they were so successful, and we actually have to admit this and respect that," Mr Heins said.

"History repeats itself again I guess ... the rate of innovation is so high in our industry that if you don't innovate at that speed you can be replaced pretty quickly. The user interface on the iPhone, with all due respect for what this invention was all about is now five years old." [...]

"The point is that you can never stand still."
The company hopes for a revival thanks to a Blackberry device Z10, which is manufactured in Australia and the United States of America in the next few days after launch in some other countries.
Jonathan Ive, Apple's design chief last year assumed responsibility for software and hardware design following the departure of Scott Forstall, sparking enormous interest in how Apple can update user interface in iOS 7.

Leave a comment