Check Out This Vintage iPhone 7 Plus Retro Edition for $1899

A firm called ColorWare has created a new custom iPhone 7 Plus model called the iPhone 7 Plus Retro Edition. The device is the unlocked 256GB iPhone 7 Plus with a colorful Apple logo on the back panel and the paint color reminiscent of old Macintosh computers from 1980s. There're also several stripes on the sides of the device, they resemble cooling vents of old computers. The price of this custom-made iPhone is $1899.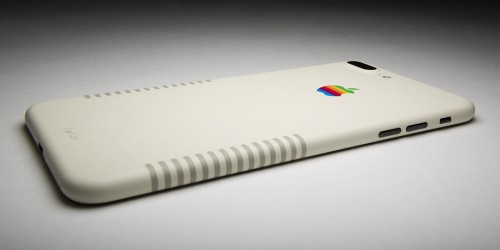 If you love the vintage look of the original 1980's Mac then why not have it on your phone! Great attention to detail is given to this fully painted iPhone. With the multicolored Apple rainbow logo and the dark beige edge stripes your iPhone will be a work of art!
The iPhone 7 Plus Retro Edition is available for a limited time. ColorWare offers worldwide shipping and the shipping time is 2-3 weeks. In the box one can find the iPhone with Lightning EarPods, all documents, and stickers. The company also offers a one-year warranty on the product.
[via iClarified]

Leave a comment