Customers Begin Receiving New USB-C Cables for Their MacBooks

Earlier this month, Apple launched a new replacement program for faulty USB-C cables purchased together with 2015 MacBook units and began shipping the replacement cables to the customers free of charge. Today, a report appeared on the Internet suggesting that first customers have begun receiving their replacement cables and special letters from Apple explaining the terms of USB-C cable replacement program.
Below you can take a look at a typical package from Apple.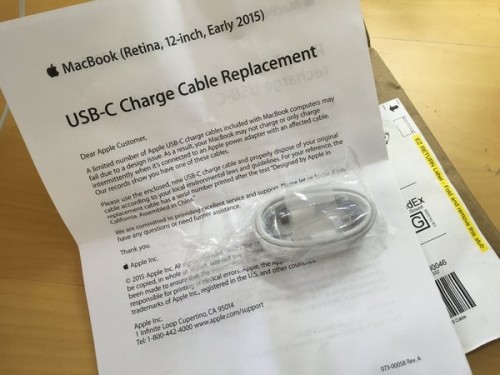 As shared on reddit, MacBook owner iPhonedo received a package from Apple that included a new USB-C cable and a letter explaining the USB-C cable replacement program.
If you provided Apple with a valid address after purchasing the laptop, the company will send you the replacement units automatically. If you didn't share your address, you can visit your local Apple Store and ask about the replacement program and your participation.
Have you experienced any issues with MacBook's USB-C cables? Let us know in the comment section below.
[via MacRumors]

Leave a comment