CutYourSIM offers remote unlock for AT&T iPhones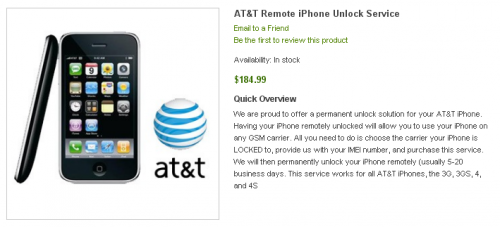 CutYourSIM is once again offering permanent remote unlocks for the iPhone 3G, iPhone 3GS, iPhone 4 and iPhone 4S for AT&T devices.
We are proud to offer a permanent unlock solution for your AT&T iPhone. Having your iPhone remotely unlocked will allow you to use your iPhone on any GSM carrier. All you need to do is choose the carrier your iPhone is LOCKED to, provide us with your IMEI number, and purchase this service. We will then permanently unlock your iPhone remotely (usually 5-15 business days. This service works for all AT&T iPhones, the 3G, 3GS, 4, and 4S
In the past, CutYourSIM offered remote unlocks but were forced to shut down their service. Apparently, they managed to find someone to whitelist IMEIs the same way a 'legit' unlock by Apple would be performed. It is still unknown if this service actually works, since no reviews from hackers or even users are available.
CutYourSIM wants $185 for the AT&T iPhone unlock service. You can check out their site here.

Leave a comment