Cydia Substrate 0.9.5000 Compatible with iOS 7 and 64-bit Apple Processor Released

Saurik has recently released Cydia Substrate 0.9.5000 compatible with iOS 7 and the 64-bit processor, which is currently used in Apple's iPhone 5s, iPad Air and second-generation iPad mini.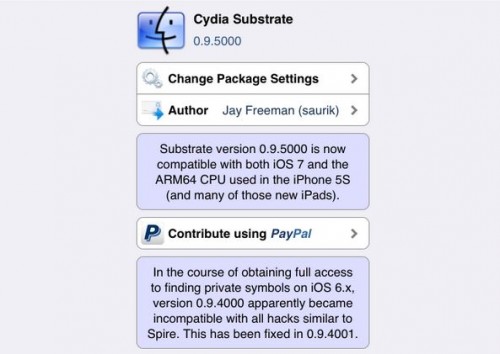 This Substrate update is extremely important for all those who use jailbroken devices since it allows most iOS tweaks to work properly. It should be noted, however, that some extensions may still crash on Apple's smartphones and tablets with 64-bit processor on board. Don't panic: soon the developers will fix all the compatibility issues.
In order to download the update, your iPhone or iPad should be jailbroken. Apart from that, don't forget to make a backup of your device. Just in case something goes wrong.
One can get Substrate 0.9.5000 from the Changes tab in Cydia.

Leave a comment, read comments [3]