Five New Apple Retail Stores Opening for iPhone 5 Launch Week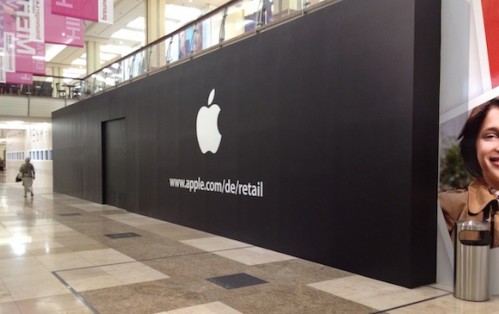 Apple has announced the grand opening of five new retail stores in support of the iPhone 5 launch this Friday. The first opening set for Thursday and the first new store at the Rio Shopping mall will open its doors in the Spanish city Valladolid. The Thursday opening is unusual due to the fact that a brand-new Rio Shopping center also opens this day.
The iPhone 5 launch will be at 8:00 a.m. local time on Friday in nine countries, and at the same time three new stores will open their doors for the customers. New stores include:
- Sindelfingen, outside Stuttgart, Germany. It was reported that the opening date was moved forward a little, on Thursday, September 21st, when the iPhone 5 will be available in Germany. The report states that the store will open on Thursday, September 20th, but it seems to have been referring to the media preview.
- La Toison d'Or at Dijon, France, the thirteenth Apple retail store in the country. The nearest shops are located in Lyon and Geneva, about 200 kilometers away.
- The 52nd Apple retail store will be opened in Valley Plaza, Bakersfield, California. Despite its arrival in Apple's most popular state for retail stores, the new store in Bakersfield will be able to serve 800,000 people, because until now the closest existing store still was located about 90 minutes away in Santa Clarita.
The launch week completes by the opening of Il Leone store in Lonato, Italia which will be opened on Saturday. The new store locates between Milan and Venice, and about 80 kilometers from the nearest shop in Bergamo. The store will be opened on Suterday, because Italy is not included in one of this Friday's launch markets for the iPhone 5. The device will be introduced in Italy next week, on Friday, September 28, as part of a rapid expansion to 22 new countries.

Leave a comment