Google Buzz now available on iPhone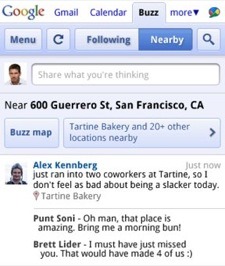 Google Buzz - is a new social communications feature that was revealed yesterday. It really looks like a mix of Google Wave and Twitter with an ability of posting media and status updates in an ongoing conversation. New service is running in almost every Gmail account and in the Mobile Safari web app. The latter has the same features as the main service and additionally includes an option to see "buzz" nearby while you're out and comment on like other people's "buzz".
The service is new, and many people discuss on how it will affect on Twitter and social networks popularity. But it is important that Google made iPhone fully compatible with Buzz in spite of a tense Google/Apple relationship.

Leave a comment