Google Launches Mainstream Movie Rentals on YouTube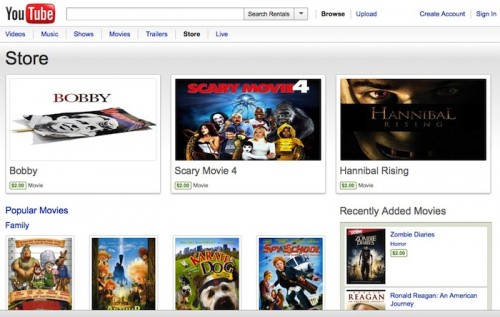 Yesterday The Wrap reported that Google is going to launch a Video on Demand movie rental service on YouTube, which will obviously become a rival for Apple's iTunes movie store.
Actually, YouTube started offering movie rental last year, but only independent studio movies have been available yet. Now Google plans to partner with major Hollywood studios.

The company has already successfully negotiated deals with Sony Pictures Entertainment, Universal and Warner Brothers. Fox, Paramount and presumably Walt Disney declined to partner, the report reads. The executive of one of the Hollywood studios is glad such a partnership became possible.
"We think it will start with VOD, but broaden to include sell-through over time. We are pretty excited because we are happy to see new entrants come in transactionally rather than a subscription model."
The rental of mainstream movies on YouTube will range from $1.99 to $3.99. New movies will appear on the site the same day they become available on iTunes or at video stores, ahead of Netflix and other subscription services.
Apple started offering iTunes movie rentals back in 2008. Then all major movie studios began providing their movies. Initial price was $2.99, new releases and HD-versions cost more. When customer purchased the movie, he had 30 days to watch it, but once playback has begun he could finish the movie only in the next 24 hours.
Last year Apple launched second-generation Apple TV and began offering TV show rentals only at $0.99. However, only ABC and FOX were on board at launch, but Steve Jobs reassured the rest of the studios will join "pretty fast".
Earlier research group IHS found that Apple had a 64.5% share on the market of online VOD-services in 2010.

Leave a comment