Google Navigation coming to iPhone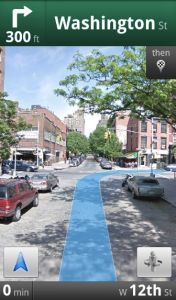 Android phones have an advantage over Apple's iPhone in navigation, because Google includes their free nice Navigation program, while Apple doesn't have built in navigation in Maps. Here are some good news for iPhone users:
Google confirmed at a London press conference that it plans to bring free satnav to other smartphone platforms, including the iPhone, although it wouldn't say when.
Unlike TomTom or iGo software, Google's satnav software doesn't store maps on the device but downloads them on-demand from the internet. However "Google Maps pre-caches the entire route," said Mobile Maps product manager, Steve Lee. "It needs a data connection when you ask for navigation. But while driving to your destination, if you intermittently lose the connection, it will still carry on. As long as you stay on the route."
Users can choose from several viewing options: standard maps and directions, satellite view and access to Street View, plus live traffic data. Sound like a good deal.

Leave a comment