iOS 10.3 with Theater Mode to Come on January 10th

Sonny Dickson, a well-known and usually reliable insider, has recently tweeted that on January 10th, Apple will release the first iOS 10.3 beta to developers. The new firmware version will feature a new Theater mode apart from usual minor improvements and bug fixes. Currently, it's not entirely clear, what the new Theater model will bring to iPhones and iPads, but looks like soon we'll find out.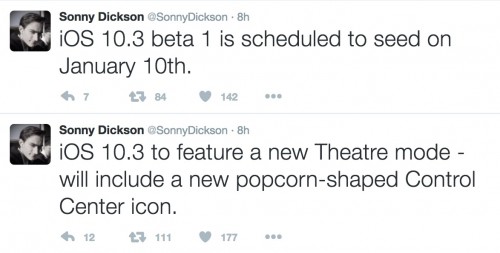 Here's what Dickson tweeted:
iOS 10.3 to feature a new Theatre mode - will include a new popcorn-shaped Control Center icon.

iOS 10.3 beta 1 is scheduled to seed on January 10th.
There're no other details about the upcoming firmware update, but we'll let you know if we find something worth your attention.

Leave a comment