iOS 7.0.4 is Safe for 7.x Users Waiting for a Jailbreak

Famous hacker MuscleNerd has confirmed that iOS 7.0.4 is safe to update to for users who wait iOS 7 jailbreak and are already on iOS 7.
Those at 7.x waiting for JB, maybe treat 7.0.4 as exercise in restraint. Won't affect JB if you slip up, but test your ability to avoid it!

…but for those enjoying the 6.x JB, avoid 7.0.4 . There's no going back (always worth saying that for sake of JB newbies)
The last update we received about the possibility of iOS 7 jailbreak was in early October when Planetbeing tweeted, "We're still working hard on the jailbreak. May have all the pieces at this point (but not certain yet)."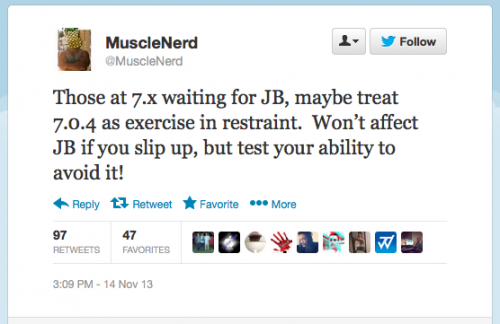 Leave a comment