iOS 7.1 vs 7.0.6 battery life test

ArsTechnica has developed a chart that shows us the influence iOS 7.1 has on the battery life of your device.
During this Wi-Fi browsing test the battery life of different devices on iOS 7.1 was compared with the one working on iOS 7.0.6. The finding showed that most of the scores differed within a few percent so can be accounted for by an error.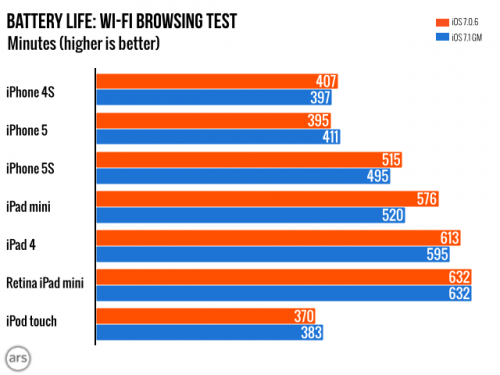 The first-generation iPad mini is the only one to lose a significant amount of runtime in our test—it gets about 10 percent less life out of a single charge. We'll be running the test again to verify this particular data and will update this article if we see different results. In the meantime, it's probably safe to say that unless something is wrong with your hardware, you'll get about the same battery life out of iOS 7.1 that you got from 7.0.
Have you experienced any improvement of battery life when updating to iOS 7.1?

Leave a comment