iPad Expected to Maintain Position as Tablet Market Leader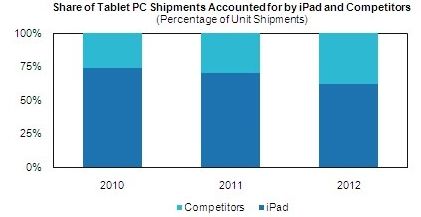 According to iSuppli, Apple will command 74.1% of the tablet market for 2010. And even though competitors will soon be launching a number of tablet devices seeking to compete against the iPad, Apple is predicted to maintain its leadership position with 70.4% of the market in 2011 and 61.7% in 2012. iSuppli last month predicted iPad sales of nearly 13 million this year, surging to over 50 million in 2012 for a total of nearly 100 million iPads sold by the end of that year.
Acer chairman JT Wang reportedly claimed that Apple's share of the tablet market will eventually stabilize at 20-30%. However, iSuppli observes that the most interesting competitor is likely to come from HP. But the potential iPad competitors exist in the form of HP, Dell and Lenovo's upcoming tablets, iSuppli believes that none of them can seriously challenge Apple's tablet from a solution perspective before 2011.

Leave a comment