iPad mini is more strongest than Nexus 7 and 3-rd generation iPad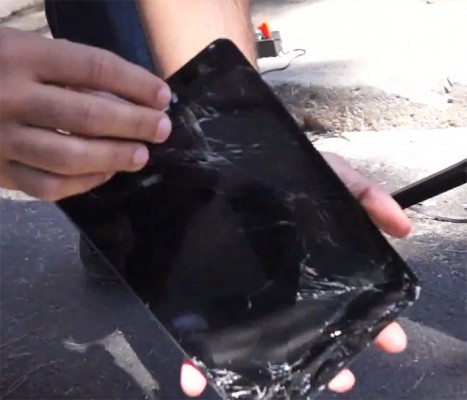 An informal test of strength performed by the third-party warranty firm showed that despite the extremely slim body, the new iPad mini is stronger than the Google Nexus 7 and the third-generation iPad.
In total, there have been conducted three tests. Two of them were conducted using specialized machines that dropped three tablets from a height of four feet, and another in which the devices were stowed in a container with water for ten seconds.
Unlike the other tests, in the experiment with the iPad mini the machine was used for the dumping down of tablet at the same time in similar conditions. In two trials of devices were dropped on the corners and the front panel. The best things were with iPad mini, it received only minor damage, while the screenedge of the Nexus 7 got some defects and the full-size iPad got a big crack.
Next test was falling to the front part. Nexus display  has small cracks, and the iPad mini and the third generation iPad screens were greatly damaged. The test is not intended to enable devices after they were dropped.
Finally, the tablets were submerged in water, than enabled for 10 seconds, then they were checked. iPad mini, as it turned out, was functioning normally, while the home button of the 9.7-inch iPad was out of order, and it seemed that the device was slow to respond to touch input. Nexus began to restart during the process and was declared by the testers as a "unresponsive."
Despite the highly subjective results, thisseries of tests gives quite a reasonable look at the integrity of tablet computers when falling from a height, although the results will undoubtedly vary in real-world situations.

Leave a comment, read comments [1]