iPad tablet market share will dip to 50% by 2017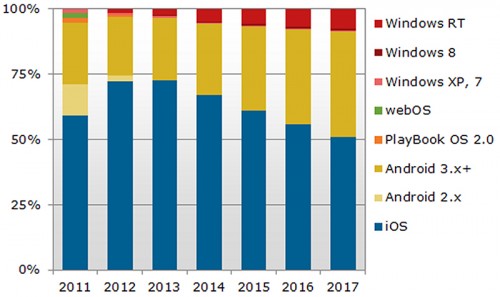 NPD, market research firm, suggests that Apple's tablet market share will drop to just over 50 percent by 2017. Android and Windows-based devices will, obviously, have a hand in it, and, as NPD expects, will begin continue to eat into the iPad's overwhelming lead by 2014.
The overall tablet market will swell from 81.6 million units in 2011 to 424.9 million units by 2017, and tablet shipments will surpass those of notebooks by 2016.
"So far in this relatively young product category, the tablet PC market has been dominated by Apple and has tended to include a number of competing products that are similarly configured to the iPad," said NPD DisplaySearch Senior Analyst Richard Shim. "However, as the market matures and competitors become better attuned to consumer preferences and find opportunities to break new ground, we expect the landscape to change dramatically, giving consumers more choices, which will drive demand for more devices."
NPD also predicts that Apple's share will fall from 72.1 percent in 2012 to reach 50.9 percent in 2017, while Android and Windows RT tablet shipments will grow from 22.5 percent to 40.5 percent and 1.5 percent to 7.5 percent, respectively.

Leave a comment, read comments [1]