iPad will be used for working on the go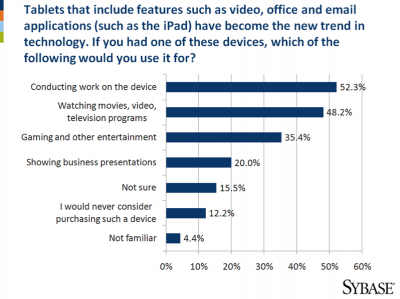 Sybase released another study based on the survey made by Zogby International. The company analyzed the opinions of 2,443 adults that have at least one mobile phone. Among them 770 have smartphones.
More than a half of respondents (52,3%) said they will most likely use an iPad or any other tablet device to do work. 36% claimed such a device will help them to be more productive at work. Every second person find iPad to be an excellent gadget for watching videos, but only every third person is going to play games on it.
"The study shows that consumers are looking for devices they can use both at home and work, with implications for the business being asked to support them. Further, findings show that while device functionality is important to satisfying people's desire for a personal and work-ready mobile experience that the experience is incomplete without greater access to data."
Indeed, the survey found that mobile users have a limited access to their data. 65% of respondents have only 10% of their work and personal data on their mobile devices. They say their work would be more productive if they could handle twice more information than they can today.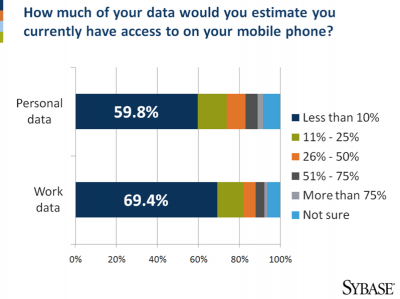 Leave a comment, read comments [1]