iPhone 4 became the most fragile smartphone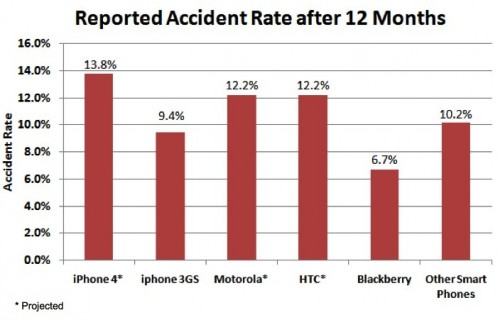 This week third-party warranty provider SquareTrade posted the results of the study of more than 50,000 smartphones, which include Apple's iPhone 3Gs and iPhone 4, Motorola's Cliq, Droid and Droid X, HTC's Nexus One, Droid Incredible and Evo, RIM's Blackberry Curve, Storm and Bold.

It is said in the study that among all the smartphones iPhone 4 became the most reliable, as only 2.1% of users projected to report about non-accident malfunction in the first year after purchase. The second place was shared by iPhone 3GS and Motorola, which took 2.3%.
Though the iPhone 4 has the best reliability, it was also found to be the most accident-prone. After 12 months of using 13.8% of users projected reported about accidental damage, which is in most cases allegedly takes place due to its two sides made of glass. The main cause of accidents (77% of cases) is drops.
"The data seems to suggest that the likelihood of drop damage is directly proportional to the amount of glass on the device".
It is interesting that the lowest overall failure rates (that both includes accidents and malfunctions) also has the iPhone, but its 3GS version. Only 11.8% of its owners faced at least one failure in the first year of use.
Other data can be seen on the images below and above.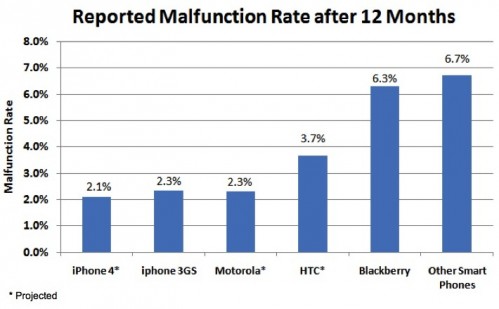 Generally the report concluded that since 2008 the smartphone reliability has significantly improved. For the last two years Apple has cut its malfunction rates by roughly 60% for its iPhone, for example.
Previously SquareTrade reported that iPhone 3GS owners submitted accident claims 68% less often that iPhone 4 users. It was also revealed that almost a quarter of all the claims on broken devices are about the back screen damage.

Leave a comment