iPhone 4 has been successfully hacked (jailbroken)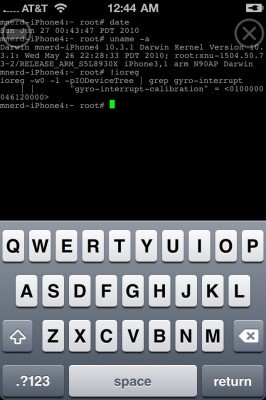 Congratulations to all iPhone users. iPhone 4 has been successfully jailbroken. iPhone hackers @planetbeing and @chpwn has managed to get root access on the device using @comex's userland jailbreak method. However do not expect new jailbreak utility soon. @p0sixninja has confirmed that it cant be released in its current shape because it contains some of Apple's proprietary code:
@i_Enthusiast the jailbreak shown is a more of a stepping stone for us, it can't be released because it includes some of apples software
You should not expect the carrier unlock soon too. This is because iPhone 4 uses a new baseband OS, which will require a complete rewrite for ultrasn0w unlocking tool:
The DevTeam and others have been checking through the iPhone 4, and have noticed the baseband runs a completely different OS than on previous models. The iPhone 3G and 3G[S] both ran Nucleus OS on the PMB8878 baseband CPU (aka XGold 608), where the iPhone 2G ran the PMB8876 (aka S-Gold 2). iPhone 4 uses the PMB9800, or X-Gold 618 – running a separate OS – ThreadX, an RTOS by ExpressLogic.

Leave a comment