iPhone 6s and iPhone 6s Plus Have 2GB of RAM - Hamza Sood

A well-known iOS developer Hamza Sood has recently discovered that the iPhone 6s and iPhone 6s Plus both have 2GB of RAM. This seems to be truth as the references pointing to the increase in RAM have been found in Apple's development tool called Xcode. The rumors about larger amount of RAM inside the iPhone 6s and iPhone 6s Plus have been circulating on the Internet for a couple of months and looks like now they are finally officially confirmed. Hamza Sood is quite a reliable insider, so we can believe what he has revealed.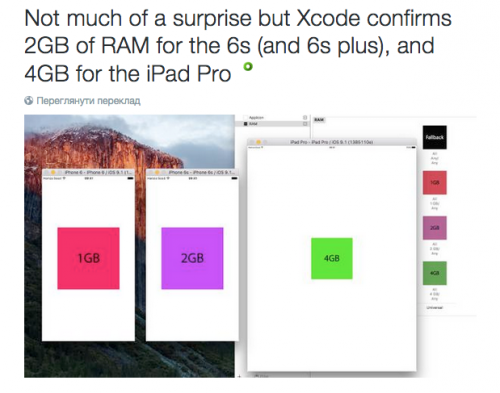 Here's what Hamza Sood has posted on his Twitter:
Not much of a surprise but Xcode confirms 2GB of RAM for the 6s (and 6s plus), and 4GB for the iPad Pro
A press release shared by Adobe last week suggested that the 12.9-inch iPad Pro got 4GB of RAM. Hamza Sood has also commented on the issue and proved that the larger-screen tablet can indeed boast of 4GB of RAM, which is two times more than the amount or RAM found inside of the iPad Air 2.
Apple on Wednesday officially unveiled the iPhone 6s, iPhone 6s Plus as well as new iPad mini and iPad Pro with massive 12.9-inch screen. All the specs and images showing new devices are available on our website.

Leave a comment