Luca Todesco to Release iOS 10.2 Jailbreak Soon

A well-known developer Luca Todesco will add the support of iOS 10.2 to his yalu jailbreak. However, the updated utility won't support the iPhone 7 and iPhone 7 Plus. It will be possible to hack these devices running only iOS 10-iOS 10.1.1. The hacker promised to fix issues found in latest versions of jailbreak, however, he didn't specify when the update will come.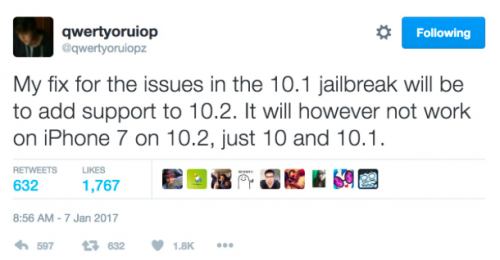 Here's what can be found in Todesco's Twitter:
My fix for the issues in the 10.1 jailbreak will be to add support to 10.2. It will however not work on iPhone 7 on 10.2, just 10 and 10.1.
The yalu jailbreak is currently available as a beta, so it is only recommended to hack your device if you know for sure what you're doing. Before jailbreaking your iPhone or iPad, make sure you back up important files.

Leave a comment