MacBook has New Rival - Chromebook?

According to the latest research, Apple's iPad remains the most popular tablet in the USA. However, if to speak about laptops, things aren't looking so good for the company from Cupertino. Take a look at the chart below.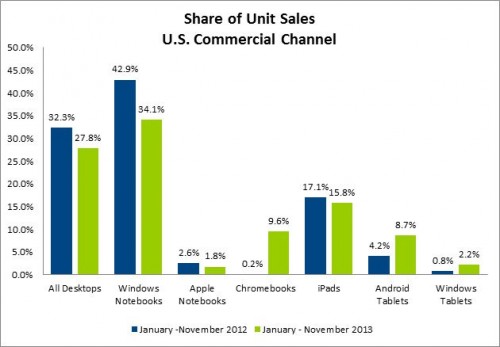 As noted by Mike Beasley of 9to5Mac,
A new release from the NPD Group indicates that notebooks running Google's Chrome OS have gained significant ground in the past year, with Google's free operating system managing to overtake Apple's entire lineup of MacBooks for the first time. According to the statistics, Chromebooks outsold Apple's notebooks at an over five-to-one margin.
A couple of months ago I told my friend that Google's Chromebook can possibly become MacBook's rival, at least in the business sector. He probably thought I was wrong, but as it turns out now - I wasn't.

Leave a comment