More iPhone 4 Problems with Possible Exchange

There have been a lot of trouble reports from new iPhone 4 owners, especially regarding the signal loss issue. However, there are some other minor factory defects which are less widespread, and it means that in this case you can exchange your phone. Here is a list of what you just might encounter:
No SIM Card Installed. Obviously, this is only a problem when you do have a SIM card installed in your phone but you still get this error periodically. Some users have reported that when they ejected their cards, there were some scratches on them. A result of this error might be a message from the iTunes: "There is a problem with the SIM card in your iPhone".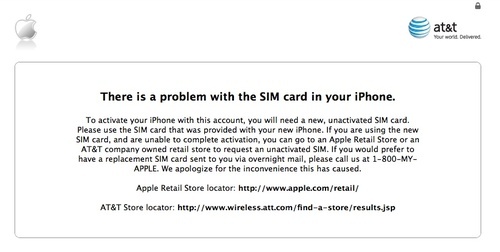 Problems with Proximity Sensor. The cause might be the relocation of the sensor from its original place to make room for the camera, but it's still not working properly.
Voice cancellation or faulty microphone. Some users can't be heard when they make a call unless they switch to an external microphone or a speakerphone.
Camera application doesn't start. The only image you get is a frozen lens, and it doesn't work even after several launches.
Mixed up volume buttons. At some phones you get the + instead of the – and vice versa.
White dots and yellow screen. You are entitled to an iPhone exchange if there are white dots and yellow bands or spots on your screen.
When you buy your iPhone 4, make sure that the device doesn't have any of the problems mentioned. If you happen to encounter any of them, just be polite. Don't demand for an exchange but simply state that you are experiencing some problems and that you'd like to exchange your device for one that doesn't have these defects.

Leave a comment