New "Google Places" Application for iOS Devices is Launched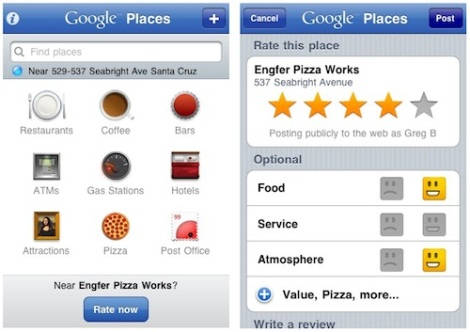 Google the new version of application called Google Places. It lets iPhones and iPads users to look for new places and review visited ones.
Google Places allows to look for locations and places nearby and mark visited places by posting individual ratings and reviews. There are default lists of places located nearby, but there is an option to customize this list by adding favorite places found with the help of Google Places. Google Places also provides "Hotspot" rating and review system in order to give an opportunity to rate favorite shop, restaurant or a night club via an iPhone.
Personal recommendations help Google to form ratings and inform other users of Google Places. In order to leave a review concerning a particular place you just need to launch application and choose "Rate Now". This will prompt where you are located at the moment and give you a chance to post a Hotspot rating or review straight via your iPhone or iPad. The more places you will rate the more personal Google Places recommendations you will get in exchange.
Google Places app is available only in English. Right now you may get Google Places app for free via iTunes.

Leave a comment