New List of iPhone 6 Specifications Leaks Online

A usually reliable insider named Sonny Dickson has recently revealed some specs for the upcoming iPhone 6. I really don't know if we can trust these facts and figures, so it's better to take them with a pinch of salt.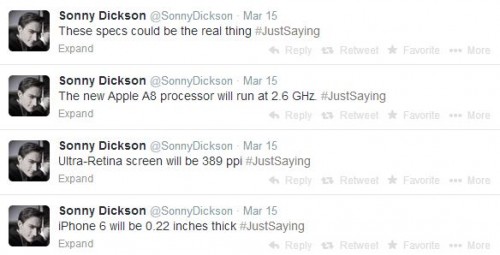 The specifications were first spotted on Dickson's Twitter on March 15th. Take a look at what he tweeted:
These specs could be the real thing #JustSaying

The new Apple A8 processor will run at 2.6 GHz. #JustSaying

Ultra-Retina screen will be 389 ppi #JustSaying

iPhone 6 will be 0.22 inches thick #JustSaying
Notably, there's no information concerning next-gen iPhone screen size. Some say iPhone 6 will get a 4.7-inch display with sapphire cover, others claim Apple will release a 5.5-inch device or both.
For those who don't know, iPhone 6 is expected to be released this year, in July or September. What can I say? Let's wait.

Leave a comment