Next-gen iPhone Manufacturing Molds Appear Online [Images]

Several images showing what appears to be manufacturing molds for the upcoming iPhone 8, iPhone 7s, and iPhone 7s Plus have been shared on the Chinese social network Weibo. The images hint at the design of the back panel these devices may get, but we should take them with a few pinches of salt. The origin of these photos is unknown.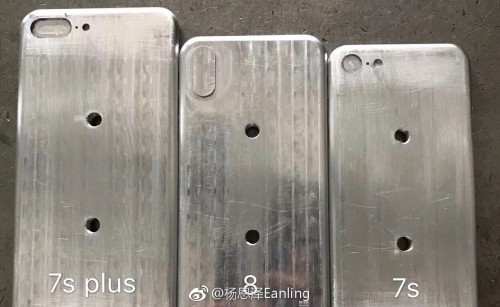 The molds reveal that both iPhone 8 and iPhone 7s Plus will get dual cameras. The difference is their position. The all-new anniversary iPhone will have a vertical photo sensor rather than a horizontal one that is added to the iPhone 7s Plus. The Touch ID fingerprint scanner will likely be integrated into the display as there're no signs of it on the molds.
In general, today's leaked images go in line with previous rumors and reports about the next-generation iPhone lineup.
Apple will unveil the 5.8-inch OLED iPhone 8 along with the 4.7-inch iPhone 7s and 5.5-inch iPhone 7s Plus in September. The top-of-the-line model will get a new A11 processor, 3D-sensor for facial recognition, and a number of other new features. It may cost around $1,000.
[via 9to5Mac]

Leave a comment