RIM's BlackBerry Overtook Apple's iPhone Back in the US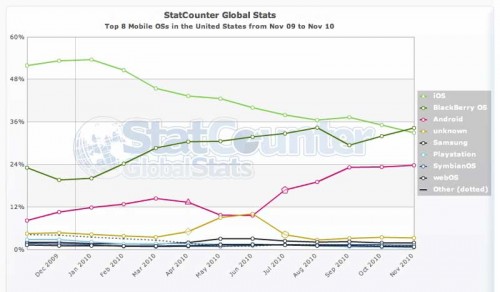 Today's StatCounter published its fresh report based on web analytics about mobile users, where it is said that 34.3% of all American users generate web traffic from RIM's smartphones, while 33% browse the Internet with their iPhones. Two years ago Apple beated RIM in this stats, as iPhone users generate three times more traffic than those who have BlackBerry.
StatCounter reveals that a year ago Apple's iOS had 52.9% share in terms of mobile web usage, so such a drop is pretty huge. To make such conclusion the company analyzed 3 million websites with 15 billion page views per month.

RBC Capital Markets analyst Mike Abramsky assures in his note that such a RIM's achievement was "likely on uptake of the release of new BlackBerry [OS} 6 devices (which include an improved Web Kit browser)".
"Alternatively, it may also reflect how Apple and Android users are doing more apps than browsing on their devices".
According to the StatCounter CEO Aodhan Cullen, the current trends also show that in the next year Android and BlackBerry combine will have double more devices that Apple's iOS in terms of mobile web usage.
"These figures suggest that developers should not be developing solely for the iPhone to the exclusion of BlackBerry and Android".
The global market was divided in this way:
Nokia's Symbian OS - 31.9% share;
Apple's iOS - 21.9% share;
RIM's BlackBerry - 19.3% share;
Google's Android - 11,6% share.

Leave a comment