Apple Releases iOS 8.4.1 Beta 2 to Developers

Apple has recently seeded the second beta of iOS 8.4.1 to developers for testing. The release comes two weeks after the release of the very first version of iOS 8.4.1 and about a month after the debut of iOS 8.4 that contained s completely revamped Music app supporting Apple Music.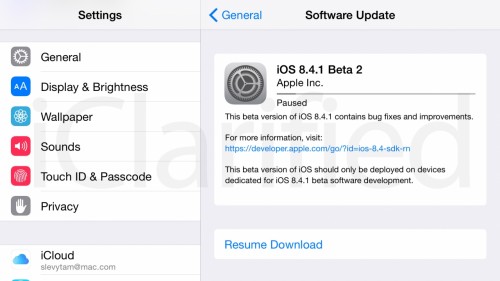 The most-recent beta has a build number 12H318 and contains a number of stability and performance improvements. So far, we haven't found any new features, which means that iOS 8.4.1 is only an under-the-hood update aimed at making Apple's operating system more secure and stable. It is unknown why the guys from Cupertino have decided to release iOS 8.4.1. People familiar with the matter claim that Apple plans to patch the vulnerabilities used for jailbreak, however, this information is yet to be confirmed.
If you have a developer account, you can download the latest iOS 8.4.1 beta right now. It is available either from Apple's dev portal or as an over-the-air update.
Pre-release software is usually quite unstable, that is why I always recommend not to install it on your main iPhone or iPad. Update your devices at your own risk.

Leave a comment