Samsung Announced Updated SSDs For MacBook Air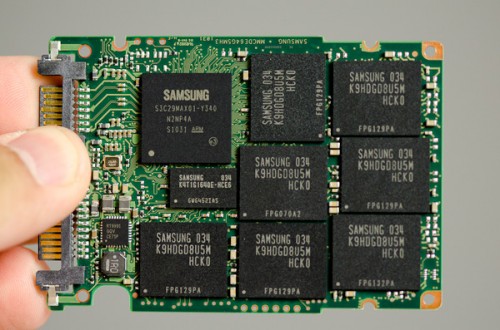 It is known that Apple upgraded from Toshiba SSDs to Samsung drives in the current MacBook Air line. Today Anandtech wrote that the Samsung PM810 (customized version of the drive that will work in the 2011 MacBook Air) was considerably upgraded in the latest refresh.
Samsung has presented PM830, the upgraded version of the PM810, which is designed to pack a 6Gbps SATA 3 providing up to 350MB /s writes, and 500MB/s reads, according to data from Samsung. That is definitely to double the actual speed of the current Samsung SSDs in Airs and easily outdo current Pro line drives.
Also the new drive will have up to 512GB capacity, a good rise comparing to the current 256GB in the MacBook Air.
It's probably not much of a stretch to suggest that Apple will include this modernized SSD in the next refresh of the MacBook Air line. However, with patent related lawsuits and competitive relations between Apple and Samsung it is questionable whether Samsung will remain the part supplier for its main competitor.
According to The Economist's report, Samsung provides some of the most important component for Apple, including DRAM, flash memory and processor components, while other companies like Taiwanese-based Foxconn ships cheaper components for Apple devices. Also report noted that Apple is one of "Samsung's largest customers".

Leave a comment