Samsung official claims Apple plans to release 7.85-inch iPad this year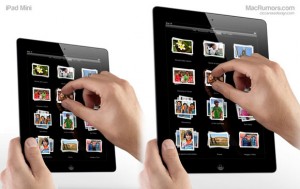 Citing an anonymous Samsung executive, The Korea Times has recently reported that Apple indeed plans to launch the 7.85-inch iPad model. The unknown Samsung's executive revealed that Apple has committed a purchase at least $9.7 billion worth of components from the company, and if the demand for is strong, Apple's expenditures will reach as much as $11 billion. The executive claims that the demand will be driven partly by the recently-released iPad, MacBook Air and a smaller iPad.
''The contract is expected to rise to $11 billion by the end of this year as Apple is planning to release a smaller iPad, probably with a 7.85-inch screen, and to sell more of its MacBook Air PCs using Samsung's faster solid state drive (SSD) storage,'' the official said.
Apple CEO Tim Cook agreed with Samsung Electronics Chief Operating Officer (COO) Lee Jay-yong to use the Korean firm's components until the end of 2014 during Lee's visit to his office in Cupertino, Calif., late last year.
The Korea Times also cites a source, who claims that Samsung will manufacture PLS-based LCDs for the smaller iPad, while Apple has also expressed interest in OLED technology. But Samsung is currently unable to satisfy Apple's demand and produce the required screens at necessary levels.

Leave a comment