Screen versus bezel comparison for smartphones

@somospostpc has published an interesting comparison list of the percentage of screen versus bezel for smartphones.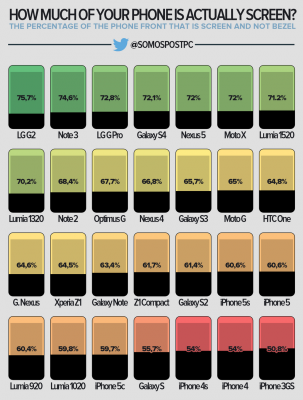 As you can see on the table above, the smallest bezel can be found on LG G2, Note 3, LG G Pro, Galaxy S4 and Nexus 5.
The poorest results are shown by the iPhone 5c, Galaxy S, iPhone 4S, iPhone 4, and iPhone 3GS.
The results of the iPhone 5s and iPhone 5 are in the middle. The display occupies 60.6% of the screen. The iPhone 5c is a bit under them with 59.7%. It means that Apple iPhones are about 15% behind the leader, LG G2 with 75.7%.

Leave a comment