Sidefari App Letting You Use Two Safari Windows Side by Side Released on App Store

A new application has been recently released on the App Store that allows to use the Split Screen mode introduced in iOS 9 to view two separate Safari pages side by side. The app is called Sidefari and it is compatible with the iPad Air 2, iPad mini 4 and the 12.9-inch iPad Pro. If you're keen on browsing through the Internet and if you need to have lots of webpages open at the same time, you should definitely try Sidefari.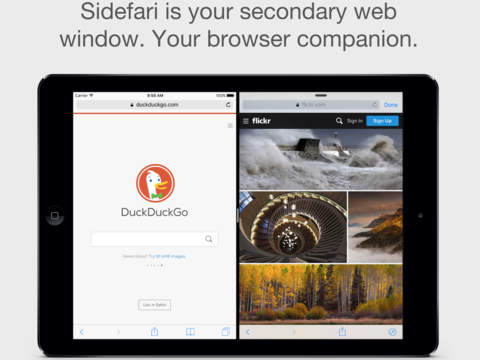 Below you will find the instructions on how to use the useful application.
Open the App Store and download Sidefari. By the way, the application costs $0.99.
Open Safari.
Swipe from the right edge of your screen. This will reveal the multitasking window, where you should choose Sidefari.
Tap between Safari and Sidefari with your finger and enjoy the browsing in two separate windows.
Sidefari is currently available in English only and requires iOS 9 or later. If you need a simple and efficient utility to extend the Safari functionality, you should definitely give Sidefari a try.

Leave a comment