Siri Reportedly Coming to iPad with iOS 6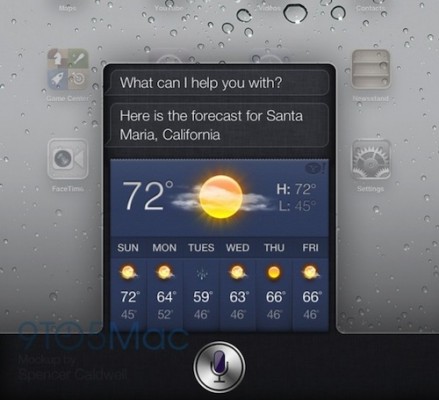 9to5Mac reports that one of the features in forthcoming iOS 6 is Siri version for the iPad. Currently Apple's voice assistant is supported only by the iPhone 4S. As for the new iPad, the device has dictation with voice recognition, but not seeing the inclusion of full Siri support at its launch earlier this year.
Siri on the iPad is activated by a quick hold of the home button, just like on the iPhone 4S. The interface slides up from below the display with a clever animation. Siri is built into the iPad as a small window on top of whatever interface the user is currently interacting with. This Siri window with rounded corners sits at the bottom center of the display, as you can see in our mockup above. The Siri iPad interface takes very little space over the iPad interface currently in use, and is designed with the same linen texture as on the iPhone 4S. Siri for iPad also works from the lock screen.
The report suggests that Apple could offer Siri exclusively for the third-generation iPad, and, as usual, it is unclear whether Apple will tout the feature at next week's Worldwide Developers Conference or if it will elect to keep it under wraps until closer to the public launch of the software later this year.

Leave a comment, read comments [3]