Steve Jobs visited New York City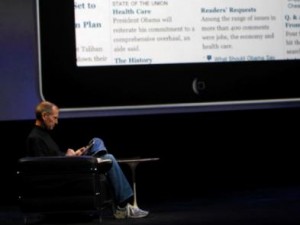 Silicon Alley Insider reported recently that Steve Jobs visited New York City to meet with executives at The Wall Street Journal and The New York Times for discussions about bringing their content to the iPad.
Apple CEO held a dinner meeting with 50 representatives of The New York Times, though the visit to The Wall Street Journal was more low-key and the audience was very limited.
On Friday morning Steve Jobs also visited Time & Life Building to demonstrate an iPad to Time Inc. CEO Ann Moore and roomful of magazine editors.
It is obvious, that the goal of Jobs' NYC visit is a content partnership. Since the iPad presentation, Apple has been working hard to broaden its content deals by pursuing book publishers and bringing textbook publishers on board. Currently the company apparently starts to focus its efforts on the magazine and newspaper industries.

Leave a comment