Survey: 42 percent Оf U.S. Windows Users Intend To Switch To Apple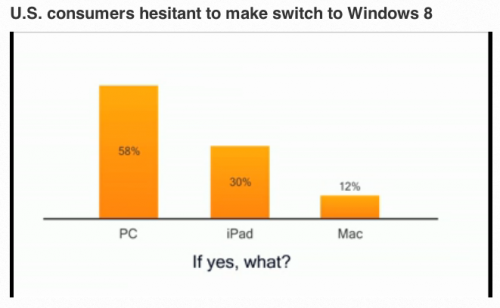 Internet software company Avast conducted a survey of Windows users to find out how many people plan to upgrade to the latest version of the Windows and got some surprising results.
As USAToday reports, the survey polled 1.6 million users of Avast anti-virus software on October, 25, the day before Windows 8 was released, and got 350,000 responses, from which 135,329 were from U.S Windows users. The survey showed that about half of Windows users are going to switch to an Apple's product instead of upgrade to Windows 8.
Jonathan Penn, Avast's Director of Strategy, said:
"Many households already have multiple PCs, and people are keeping their computers longer. More people are going to the iPad as their second or third computing device."
Avast found that only 16 percent of respondents in U.S. planned to buy a new computer. 68 percent of respondents noted that they would purchase a new Windows 8 computer, while 42 percent planned to buy a Mac or iPad (12 percent and 30 percent, respectively).

Leave a comment