The Rocky Relationship Between Apple and Facebook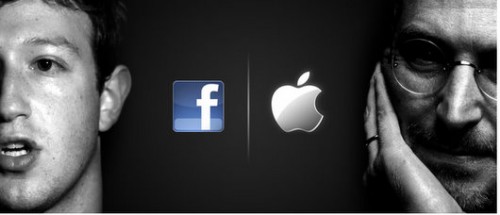 Apple relationship with Facebook always was rocky. We know that when Apple introduced Ping, Facebook denied Apple access to integrate two networks. This is one example from plethora of the same ones. Over weekend, Marshable posted an inside information on history of Apple and Facebook confrontation. As far as we know, Steve Jobs visited   Mark Zuckerberg in order to discuss Facebook application for the iPad, and now it's release is in doubt.  Recent rumors have suggested that Facebook will be integrated in iOS 5, but it appears that Apple has been working on Facebook integration for a long time:
"A source familiar with the chain of the events attributes the Ping debacle to a disagreement over iOS 4. Apple had fully integrated Facebook into the iPhone and iPad's operating system, and was ready to launch the mobile-social fusion when API negotiations broke down. Apple, lacking confidence in Facebook's ability to build a great application, asked to build its own Facebook for iPhone app. Facebook responded with a firm no. Negotiations came to halt."
Facebook made no mention of an iPad app at its annual F8 conference a couple of weeks ago. It seems that HP is the reason why Facebook has yet released its iPad app, according to Mashable. Zuckerberg had been promising Apple an iPad app while at the same time working on an official client for HP's TouchPad tablet.

Leave a comment